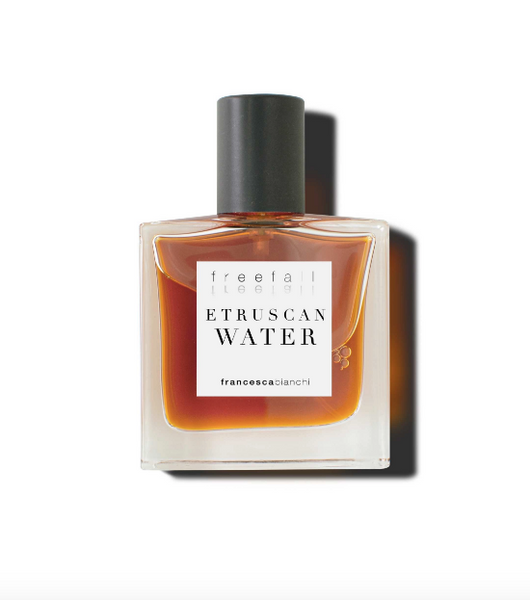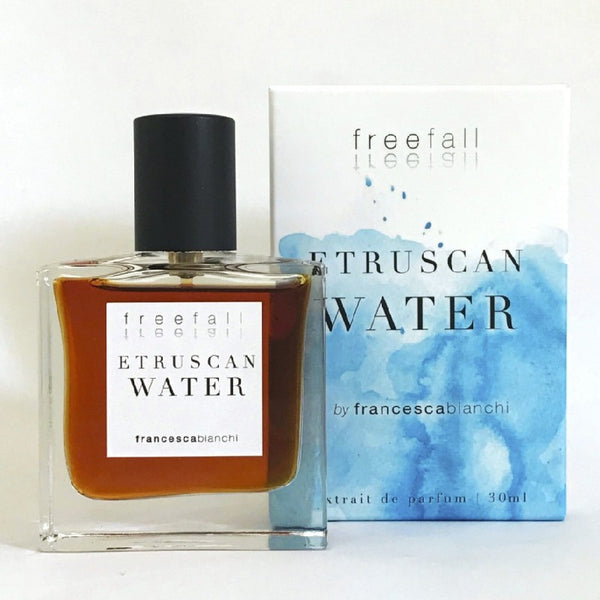 FRANCESCA BIANCHI - ETRUSCAN WATER (EXTRAIT DE PARFUM 30ML)
The constant search for qualitative raw materials is crucial for the achievement of a great result. The same formula performed with materials coming from different suppliers will sort out a different olfactory profile.
My perfumes are conceived in my laboratory in Amsterdam. When the formula is ready, I can finally order the raw materials in order to mix them.
The resulting concentrate is then sent out to an artisanal atelier in Italy which put it in alcohol, let it age, and then take care of packing it.
The creation of a perfume is a very long and complex process, and it takes me a hermit life to devise a formula which I then blend, holding my breath at every drop I add as in a sacred ritual.
At those ecstatic and silent moments, I feel like an alchemist which – through a transformation – gives birth to something new, which is not the simple addition of different materials.
Etruscan Water
Extrait de parfum
Accords: Chypre, citrusy, spicy, powdery
Mood: classic, seductive, exciting, refreshing
Notes: Bergamot, Green Tangerine, Grapefruit, Petit-grain, Basil, Carvi, Immortelle, Jasmin, Iris root, Musk, Ambergris, Labdanum, Vetiver, Oakmoss
This is an extrait de parfum, so use sparingly as the concentration is 25%. It has a great longevity (an average of 12h)
The Making of Etruscan Water
The inspiration for Etruscan Water comes from two different sources. The first one is my personal memory: being born and raised in Tuscany, we could go to the beach in the South of the region, where hundreds of years ago our forefathers, the Etruscans, used to live.
In order to access to the most stunning, well hidden small bays, and offering the most transparent water, there was a 30 minutes walk through the woods.
These woods are full of wonders! The smell of typical Mediterranean vegetation is charming and, if you are lucky (or unfortunate…) you could bump into a wild boar – or even some remains of the Etruscan civilisation.
The salty, refreshing smell of the sea soothes you from the heat of the sun that is warming up your skin.
The second source of inspiration is my personal research on masterpieces of perfumery, as I have recently been intrigued by the classical masculine citrusy cologne – not the light ones, but those with a strong character.
Crafted in Amsterdam, Netherlands
Finished and Packaged in Italy
---