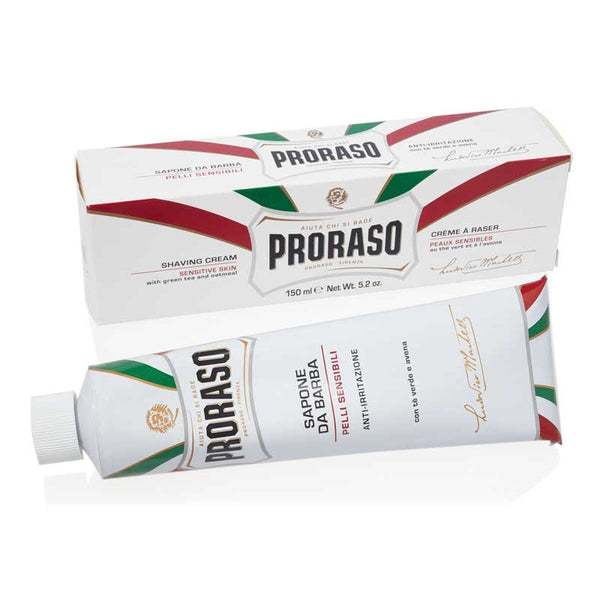 PRORASO SHAVING CREAM - SENSITIVE SKIN FORMULA (100ML)
Proraso is a brand that evolves a piece of Italian history. For almost a century, Proraso has transformed the art of shaving into a pleasurable daily ritual. Three generations of shaving that have made history. 
ABOUT
Proraso Shaving Cream for Sensitive Skin provides a rich, creamy lather to prepare skin prone to irritation for a close shave without razor burn. Oatmeal and Green Tea soothe and protect inflamed, sensitive skin. Features a hint of the light, refreshing scent of lime and apple.
Made with a "hot soap process", it's left to mature for 3 days. Proraso's Sensitive Skin shaving cream produces an extremely fine, thick and creamy soap that, with the aid of a brush, produces a soft and rich lather. Ideal for delicate skin, it protects like an invisible shield and prevents redness.
Originating in Italy, Proraso has been innovating professional highest-quality products in the shaving world for generations, and has evolved to become a staple of Italian culture.
SKIN TYPE/CONCERN
Anti-Irritation, for sensitive skin.
WHAT IT DOES
Creates a rich, thick lather while protecting, calming and soothing skin prone to irritation.
WHY WE LOVE IT
This shaving cream's formula, ideal for sensitive skin, is enriched with Oatmeal Extract and Green Tea for an emollient and soothing effect. It's the ideal way to calm redness caused by shaving.
HOW TO USE

Dampen your Proraso brush with hot water.
Squeeze about 2cm of soap between the bristles of the brush and massage onto the face using circular movements.
In a few moments, the soap turns into a creamy and compact lather that will soften all kinds of beard, making shaving a pleasant daily activity.