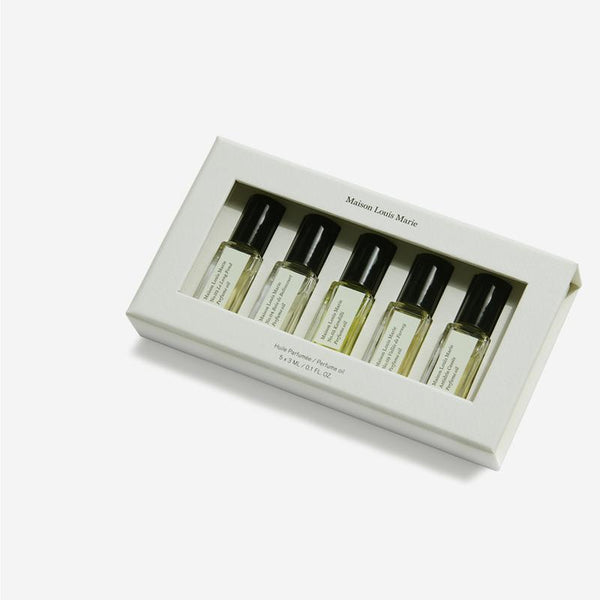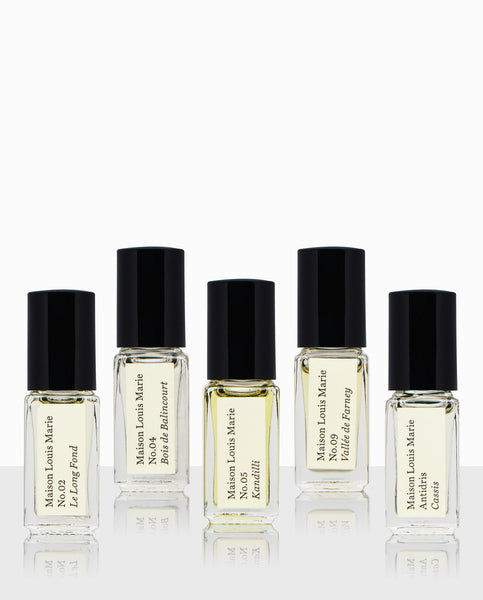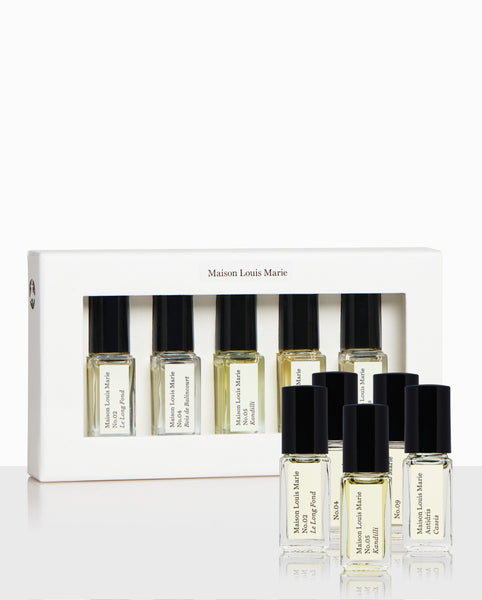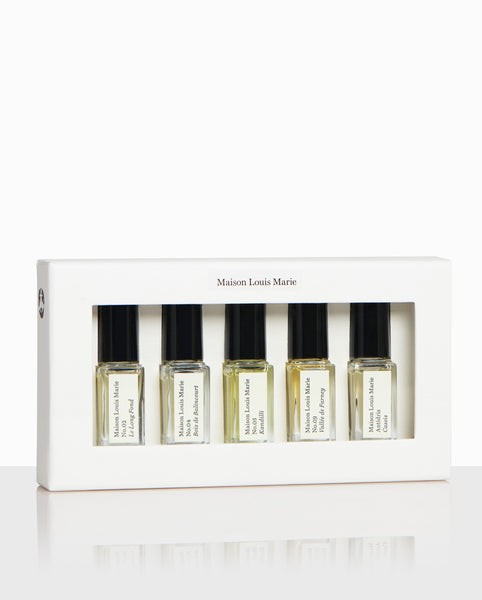 MAISON LOUIS MARIE - PERFUME OIL DISCOVERY SET (5 SCENTS)
In 1792... Louis Marie Aubert du Petit Thouars was a pioneer in French botanical history. During the French revolution, he was exiled to Madagascar, La Reunion and the Mauritius islands where he discovered a vast array of plant specimens. Ten years later and bearing a collection of over 2000 plants Louis Marie was finally able to return to France where he was elected a member of the prestigious Académie des Sciences.
200 hundred years later... As a  young girl, Marie du Petit Thouars grew up in Belgium making candles and experimenting with scents in her mother's green house. With the creation of Maison Louis Marie, she has built upon the rich botanical history of her family with luxury candles and perfumes that focus on illustrious scents imbued with unique floral fragrances.  
DETAILS:
Maison Louis Marie perfume oil discovery set includes our 5 best seller fragrances: 
No.02 Le Long Fond - Huile parfumée / Perfume oil
No.04 Bois de Balincourt - Huile parfumée / Perfume oil
No.12 BOUSVAL - Huile parfumée / Perfume oil
No.09 Vallée de Farney - Huile parfumée / Perfume oil
Antidris Cassis - Huile parfumée / Perfume oil
The Discovery Set Contains: 
No.02 Le Long Fond
Founded by our grandfather, Le Long Fond is a nursery in Belgium that's still active today. This scent is a savory mixture of hinoki wood accord underlined by notes of cedarwood and Patchouli with a strong amber character.
Top note: Hinoki Wood 
Mid note: Cedarwood, Patchouli
No.04 Bois de Balincourt
Surrounded by an ancient mysterious forest, Balincourt is the name of our family home where we took long walks on a magical trail called 'Lover's Lane'. This romantic scent is a sandalwood fragrance with a dominant cedarwood and sandalwood accord that's supplemented by a spicy cinnamon nutmeg complex with an earthy vetiver note.
Top note: Sandalwood, Cedarwood
Mid note: Vetiver, Nutmeg, Cinnamon
No.09 Vallée de Farney
Vallée de Farney is a nature preserve located in the native forests of the Mauritius Island. The forest is home to more than 100 plant species and numerous animals where Louis Marie discovered many new plant specimens. Inspired by the wild forest, this scent is a woody, mineral fragrance. The top note is a citrus accord of grapefruit, orange and black pepper enhanced by cedarwood and Patchouli.
Top note: Grapefruit, Orange, Black Pepper
Mid note: Cedarwood, Patchouli, Geranium
Base note: Vetiver, Amber, Musk
No.12 Bousval
Bousval is named after our mother's hometown: there, she'd walk her four collies during warm summer evenings, spending most of her time camping outside, catching fish, and picking fresh vegetables at the pond next to her home. Inspired by her enchanted summers, this scent has nuances of Valencia Oranges are joined with Italian Bergamot and bold White Cardamom. A signature heart of Ginger Flower is complimented with Eucalyptus and earthy notes of Oakmoss. Undertones of rich, sultry woods add to misted Musk for a modern aroma.
Top note: Bergamot, Cardamom, Valencia Orange
Mid note: Heliotrope Flower, White Ginger, Petitgrain
Base note: Gilded Amber, Cedar Noir, Myrrh
Antidris Cassis
This fruity fragrance begins with a black pepper note enhanced by bergamot and cassis. It then develops a strong green accord with a white rose base and dries down to a warm oakmoss, tonka, and clean musk base.
Top note: Cassis, Bergamot, Black Pepper
Base note: Oakmoss, Musk, Tonka
5 x 3ml - 0.50 FL.OZ
---