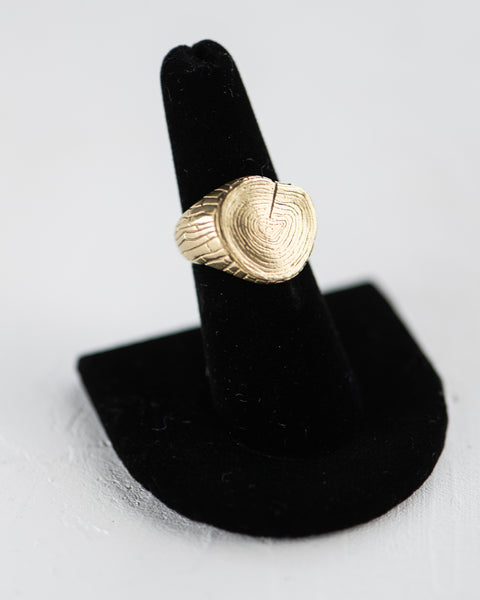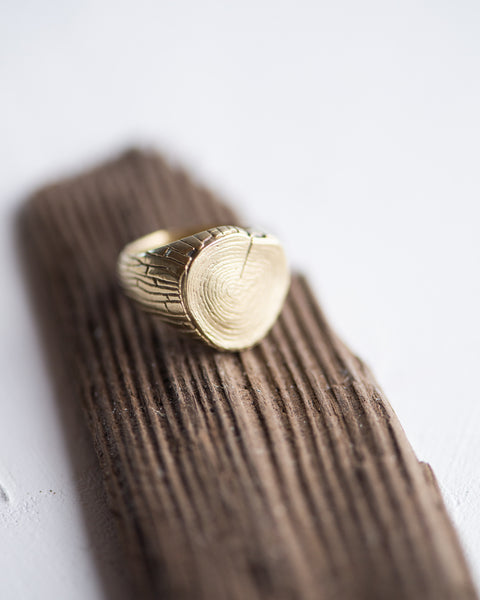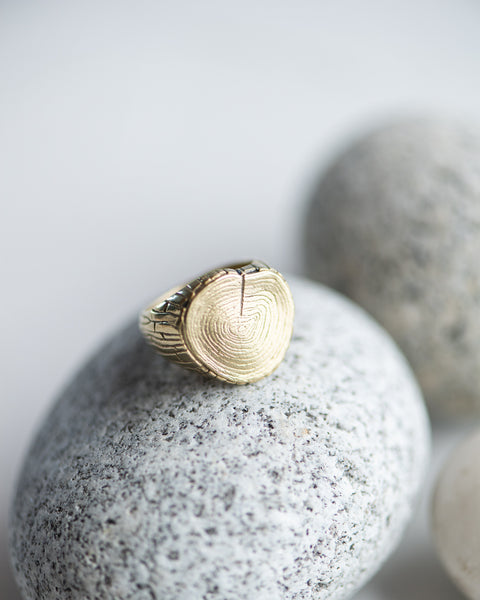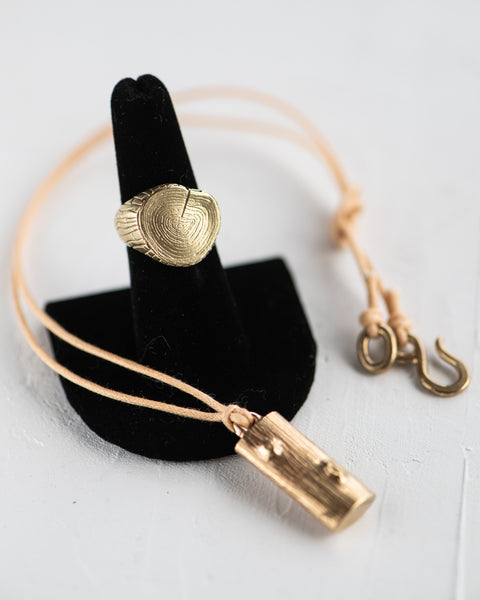 CAT BATES X PTC - TREE TRUNK - SIGNET RING (LUMBER COLLECTION)
Absolutely love the abundance of amazing local artist within Maine - North to South, East to West. It is a honor to finally work with my friend and an amazing artist, Cat Bates. This collection is based the history on which Maine's commerce was built on - the Lumber Industry - The Tree Stump
BIO:
Cat is based in Biddeford, ME, about half an hour from Portland.  he makes his living designing and producing jewelry. 
His workshop is located in my home.  Makes this work from scratch, designing virtually every element of every piece.  There are a small number of exceptions (earrings posts, split rings, etc.), and he notes these in product descriptions and uses a variety of metalworking and fiber working techniques to create the pieces. 
Pieces will have subtle differences from one to the next, as everything is finished by hand.  The metal patina or cord color may be darker or lighter than the sample pictured, and the metal will have its own unique scratches and pits from finishing. All will grow more beautiful over time as the various materials patina.  As a designer Cat aims for subtlety, durability, and comfort.  Most of his pieces are impervious to water & suitable for constant wear.  
As the wearer, please take pride knowing that you are part of what makes the piece beautiful.
PROCESS & MATERIALS:
Lost Wax Casting
Lost wax casting is a common jewelry casting technique. In this process a master model is used to make a mold from rubber.  Molten wax is injected into this mold. After a bunch of wax parts have been injected they are then affixed to a central wax shaft.  This assembly is called a 'sprue tree', because each individual wax sticks out like a branch. The sprue tree is then encased in a special plaster to make the final mold.  Once the mold sets it is put in a kiln to melt out the wax and fully set the plaster. Molten metal is then poured in.
Lost wax casting can create smaller & more complicated pieces than sand casting.  I use lost wax casting for more sculpted designs & for clasps. Though I have the skills to lost wax cast, I choose to have these castings poured by a company in Rhode Island; it makes more sense financially and gives me more time to focus on design.  I make the master, they mold it and cast multiples in metal, then I do the clean up work in-house.
MATERIAL: 
BRASS
An alloy of copper and zinc.  Brass has a lemony-yellow color.  Over time brass with develop a warm matte surface, with shine on the high spots.  In low areas it may go dark, or even green, depending on how often you wear it and your particular body chemistry.  This coloring may rub off on your skin, particularly on hot days or when you are sweating.  It is not cause for alarm and washes off with soap and water.  The intensity of this phenomenon varies from person to person, but most commonly occurs with cuff bracelets and rings.  If it happens often and you find it bothersome a simple fix it to paint the metal with clear nail polish at the point (s) where it comes into contact, for instance around the inside of a cuff. 
MADE IN MAINE
---