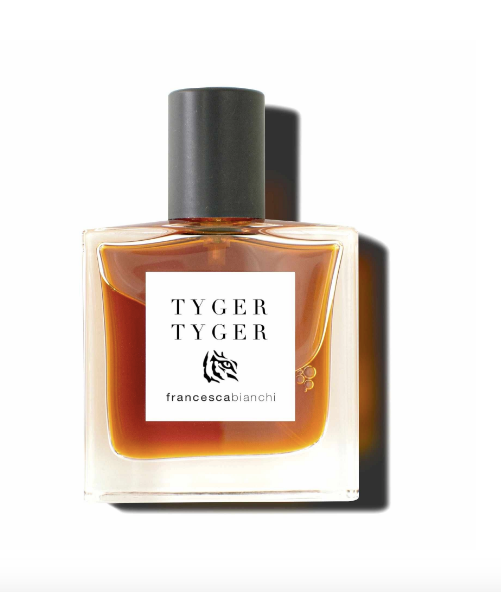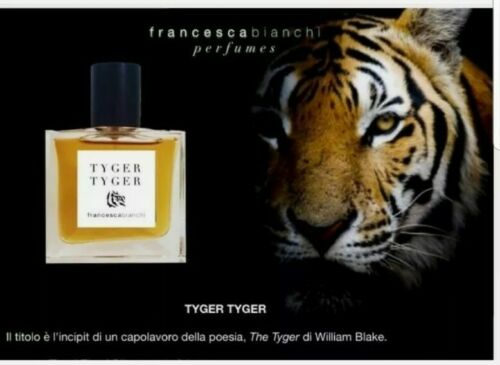 FRANCESCA BIANCHI - TYGER TYGER (EXTRAIT DE PARFUM 30ML)
The constant search for qualitative raw materials is crucial for the achievement of a great result. The same formula performed with materials coming from different suppliers will sort out a different olfactory profile.
My perfumes are conceived in my laboratory in Amsterdam. When the formula is ready, I can finally order the raw materials in order to mix them.
The resulting concentrate is then sent out to an artisanal atelier in Italy which put it in alcohol, let it age, and then take care of packing it.
The creation of a perfume is a very long and complex process, and it takes me a hermit life to devise a formula which I then blend, holding my breath at every drop I add as in a sacred ritual.
At those ecstatic and silent moments, I feel like an alchemist which – through a transformation – gives birth to something new, which is not the simple addition of different materials.
Tyger Tyger
Extrait de parfum
Accords: Chypre, fruity, woody
Mood: Dramatic, narcotic, mesmerizing
Notes:  Narcotic flowers, honey, peach jam, patchouli, sandalwood, oakmoss, oud, leather, heliotropin.
This is an extrait de parfum, so use sparingly as the concentration is 25%. It has a great longevity (an average of 12h) 
The making of Tyger Tyger
The title is the incipit of a masterpiece of poetry, The Tyger by William Blake. 
"Tyger Tyger, burning bright,
In the forests of the night;
What immortal hand or eye,
Could frame thy fearful symmetry?"
In this composition I have been searching for the perfect balance between two opposite elements, and the expression of their clashing contraposition.
I had in mind a Post-Apocalyptic condition, where traces of a highly sophisticated and refined civilisation survived in the dark and fearful condition of a collapsed and destructured world.
Blake's Tyger embodies both qualities I wanted to depict: sublime and irresistibly attractive from one side and terrible and scary from the other one. 
The 'fearful symmetry' – a character attributed to the tiger by W Blake – aptly represent this opposition of beautiful perfection and terror.
The perfume is built around an accord of narcotic white flowers with sweet-fruity facets, which includes also an absolute of Tuberose – like a prima donna, the protagonist of a dramatic piece, she's the finest example of a refined civilization of a bygone world; in opposition to that, the base notes present different kind of woods, with some burnt and leathery qualities, referring to a post-apocalyptic scenario of destruction, mystery and darkness.
The result of these parts – which wouldn't work individually – is a clashing, sparkling fragrance which gives me an exciting emotion of highly dramatic sophistication – the kind of contrasted sentiment that anything attractive arouses in me. 
Crafted in Amsterdam, Netherlands
Finished and Packaged in Italy