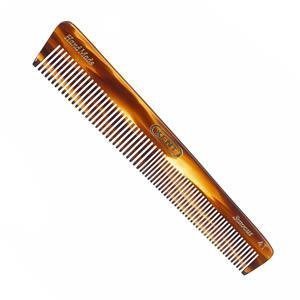 KENT HANDMADE COMB - A 4T
Kent Brushes (as they are now more commonly known) was founded in 1777 by William Kent in the reign of George III. Kent holds a pre-eminent place in the history of brush making, with an unbroken record of excellence in the quality of its production which has been recognised by the granting of Royal Warrants for nine reigns.
The Kent family continued to run the company for six generations until 1932 when the last of the three Kent brothers passed away. This is when Mr Eric L.H Cosby, owner of Cosby Brushes Ltd, entered into an association with G.B Kent & Sons. A new chapter was then opened in Kent's long history, and since that time the company has been under the creative and dynamic direction of the Cosby family.
Today, Mr Alan H.L Cosby, grandson to Eric Cosby is the Managing Director and Chairman, with his wife, son and one of his three daughters working for the business. The company headquarters moved from London to their existing factory in Apsley, Hertfordshire on the 6th February 1984, and remains there to this day.
The company continues to retain the craftsmanship and unprecedented quality that is Kent's reputation. Even in today's fast moving, mass-produced assembly, Kent are proud to still be manufacturing many of their original brushes by hand.
4T -
148mm general grooming comb-coarse/fine.

Hand made in England