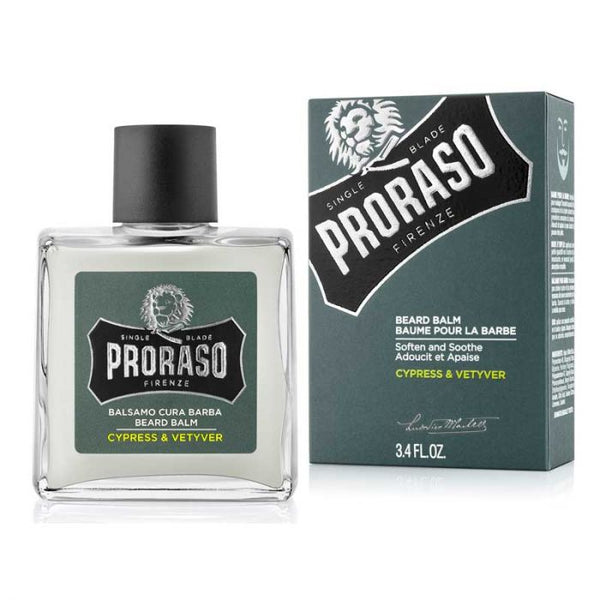 PRORASO - SINGLE BLADE - BEARD BALM (CYPRESS & VETYVER)
Created by Ludovico Martelli over 80 years ago, in Florence, Italy, these one-of-a-kind shaving preparations are still being made in the time-honored traditional way by the Martelli family.
Proraso's Single Blade Beard Balm is formulated to ease any itch or discomfort associated with the first few weeks of beard growth, and nourish and condition shorter beards.  Eucalyptus Oil and cooling Menthol help provide relief for itchiness, while the exclusive Cypress & Vetyver scent leaves the beard smelling fantastic.
Single Blade's exclusive Cypress & Vetyver fragrance features the unmistakable freshness of bergamot, accompanied by cypress accents and amber, sustained by a heart of cedar and vetyver. An enveloping aroma with vibrant personality – crisp, harmonious and pleasurably revitalizing.
Originating in Italy, Proraso has been Italy's leader in men's grooming since 1948.
Dedicated to the most skillful and demanding barber, and traditional men's grooming enthusiast, Proraso Single Blade is a professional line based on natural ingredients, with technically perfect textures, proven formulas and exclusive fragrances. 
Part of Proraso's Single Blade collection, a professional line based on natural ingredients and technically perfect formulas
Formulated to ease discomfort, itch and irritation associated with the first few weeks of new beard growth; softens and soothes beard hair as it grows
Cypress & Vetyver fragrance features bergamot, accompanied by cypress accents and amber, sustained by a heart of cedar and vetyver
Dermatologically tested, cruelty free, and contains no silicones, mineral oils, SLS or parabens
Made by Proraso, Italy's leader in men's grooming since 1948