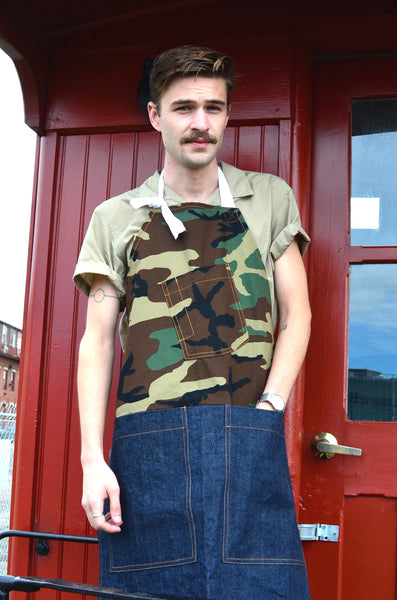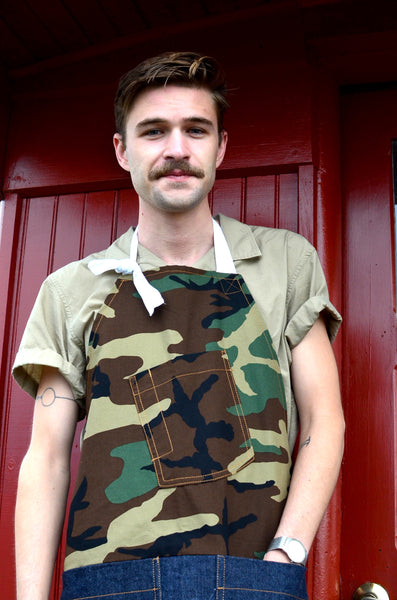 THE QUARTERMASTER APRON - CAMOUFLAGE / DENIM (UNISEX)
In the world of mass garment production, fast fashion, and not much uniqueness anymore in what we wear collectively, we wanted to create garments that are unique in all aspects in how it was made - small production, the absolute best fabric ethically sourced, slow fashion and something that will last you virtually a lifetime..... PTC label was born. We design every piece in-house and made in Maine. Hope you like what we have done. 
THE QUARTERMASTER APRON .......
This Apron was inspired by an unhealthy obsession with the TV show BLACK SAILS...... super inspiring film - Pirates, Empires, Trading, Leadership, Betrayals, Politics, Dreams, Hopes, Love, Adventures....... can go on and on. But then the storyline of the numerous QUARTERMASTERS and the complexity of that role. So this shirt was born - something cool but patched up due to wear and tear of the lifestyle of a Quartermaster managing the crew on a pirate sail boat. Designed in a true classic Apron aesthetic and functionality - but with a twist of course. So cook, entertain, love and enjoy the journey. We love it hope you do too.
DETAILS:
Adjustable neck strap.
Unisex
Fabric length - 35"

11oz
Designed and Made with love in Maine
Care
Machine wash cold and hang to dry.