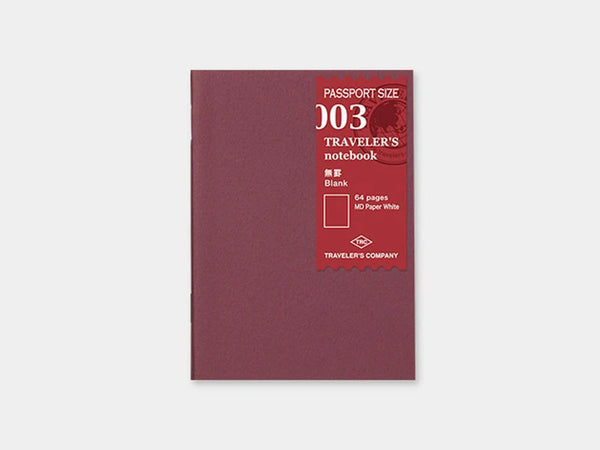 TRAVELER'S NOTEBOOK - PASSPORT SIZE REFILL (BLANK)
TRAVELER'S COMPANY (Japanese company) consists of TRAVELER'S notebook, BRASS PRODUCTS, SPIRAL RING NOTEBOOK and other related products. All these products share the theme of traveling that takes place in one's daily life. In order to pursue and enrich this theme, they changed the brand name from "MIDORI" to "TRAVELER'S COMPANY" in 2015. Through this change and the notebook they make, they would like to propose a journey where one can express themselves freely.
This is a Passport Size blank notebook refill. It's a plain white paper, so please feel free to draw, write, paste, and paint whatever that comes up in your mind. The MD paper is used for this refill. MD Paper pursues the best feeling of writing, and makes ink hard to stain and sink through the other side of the paper. It goes well with fountain pens as well.
Details:
Blank, 64 pages, MD Paper (Saddle Stitched)
5" x 3.5"
MADE IN JAPAN