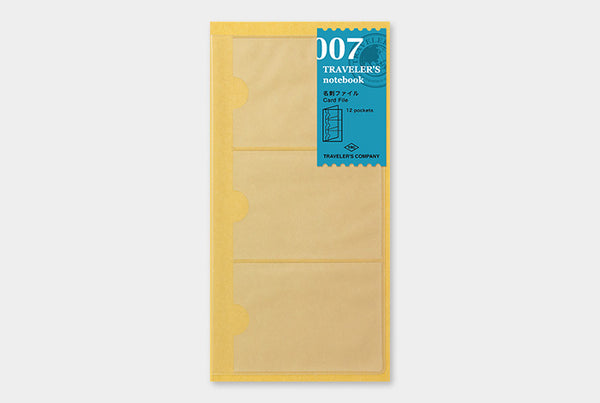 TRAVELER'S NOTEBOOK - 007 REGULAR SIZE (REFILL - CARD FILE)
TRAVELER'S COMPANY (Japanese company) consists of TRAVELER'S notebook, BRASS PRODUCTS, SPIRAL RING NOTEBOOK and other related products. All these products share the theme of traveling that takes place in one's daily life. In order to pursue and enrich this theme, they changed the brand name from "MIDORI" to "TRAVELER'S COMPANY" in 2015. Through this change and the notebook they make, they would like to propose a journey where one can express themselves freely.
This is a file where you can insert business cards. There are twelve pockets inside, and please use this by covering one of the notebook refills you are using. This refill will be suitable for people who collect small pieces of papers such as shop cards, slips of boarding passes, and post stamps.
Details:
12 Pockets, Made of PVC

H211 x W223mm (開いた状態, OPEN)

MADE IN JAPAN